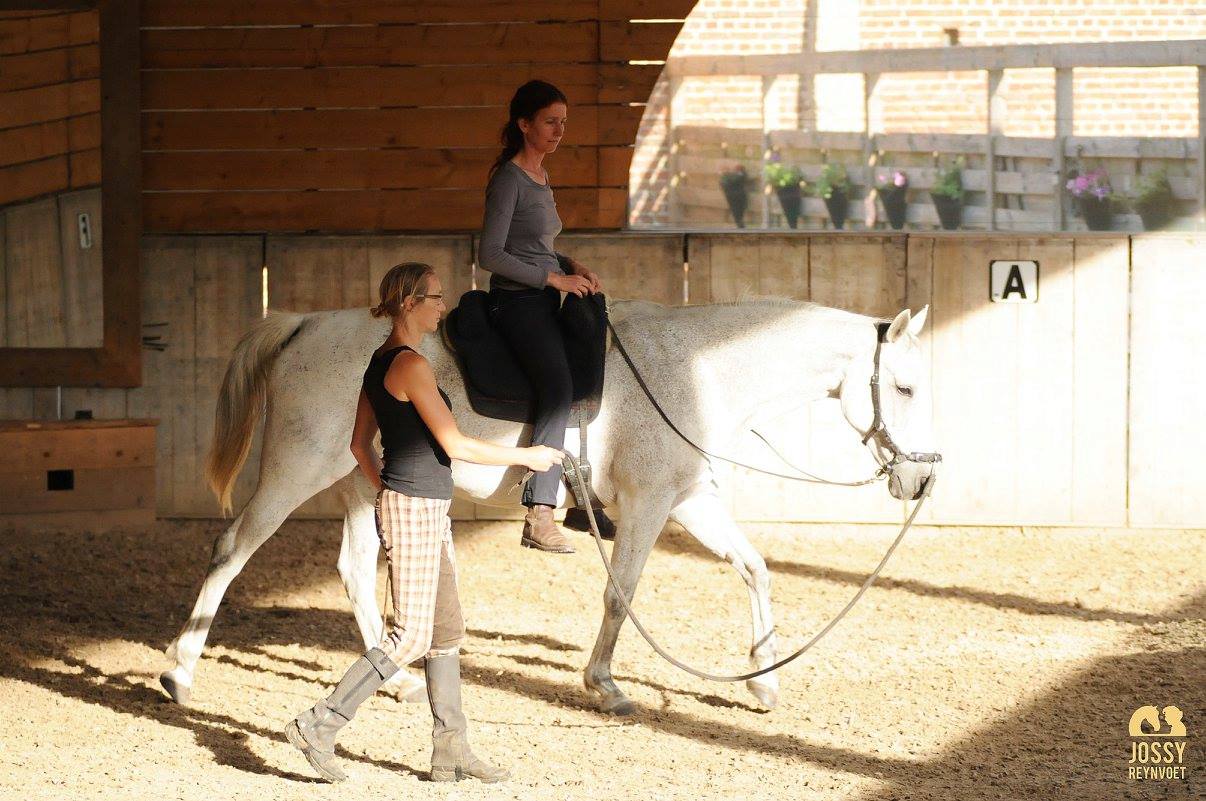 People talk about that Centaur feeling between you and your horse. That 100% connection where you and your horse become one. I have told students that this is one of the things we aim for but I had never really experienced it myself until last year when I spent time with Jossy Reynvoet in Belgium working with a mare called Jamaica, and this was while working on the ground.
A few weeks ago I was back in Belgium and again spent time at the Bornehoeve with Jossy Reynvoet.
I started my training in a two day clinic with Hanna Engstrom. I had never worked with Hanna before but I loved every minute of it. As I was not working with my own horse she put the main focus on me. I had three lessons where I was lunged around and the focus was on "feel".
In the first lesson we went through my own body. Finding blockages and realigning and softening, so that I was open for all of the information that could come from the horse. For a year now I have been doing Awareness Through Movement classes (Feldenkrais) with Grace Chapman so I was not a stranger to this.
In the second lesson we went through the body of the horse, the same thing here, feeling for blockages and realigning the body. I was amazed with the changes that I could make with doing so little.
After a while I was not sure anymore whose body we were working with, mine or that of the horse. We truly felt like one. I could feel an imbalance and before I knew I was able to correct it. It was like the horse and I were constantly talking to each other and helping each other out.
In one instance I could feel that the inside leg was stepping slightly to the inside of the circle but that the toe was pointing to the outside. It gave me goose bumps that I was able to feel in such detail.
After this amazing clinic I had another 5 days with Jossy Reynvoet.
This again was a wonderful 5 days with 2 lessons a day. I was very fortunate to have the same horse, Jamaica, to work with. She is a very willing and forgiving mare that looked after me. A great schoolmaster.
Jossy's work is very structured, everything you do and every move you make has a purpose with something to do with the next step. Jossy goes into enormous detail of the body language and aids. This makes it very clear for the horse and if you stay consistent each steps flows over into the next in a very logical way.
My biggest challenge here was coordination. There is so much happening and so many small corrections to make.
It was incredible to see that when I changed my position slightly that this had already influence on the horse. Here it was obvious that we often blame the horse while the mistake comes from our self.
Feel still played a big part here. Even on the ground you have to be able to feel your horse.
The second lessons of each day were ridden. It was so clear why Jossy works so structured. All the things you do on the ground are related and naturally flow over in the ridden work.
With the combination of Hanna's clinic where I was able to just "be" followed by working with Jossy where the focus was on "doing" was perfect. My homework now is to integrate these two.
I often speak about the challenge of going from "being to doing". At least for me it is a challenge but I believe I do share this with many of you.
I would definitely like to work more with Hanna and Jossy, which means more trips to Europe…. Or would they come to us? Let's see what happens.
The purpose of my trip was education and the expansion of my knowledge in the work I do with horses. Well, it was a very successful trip and I can't wait to share with you all I have learned.